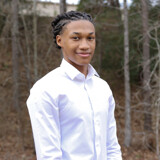 Atlanta Realtor - Bze Free LLC
Hello! I'm Bryant Edler, your dedicated Atlanta Realtor. With a deep-rooted passion for real estate and a genuine desire to help people, I am committed to providing top-notch service and delivering exceptional results for my clients. As an Atlanta native, I have a profound understanding of the unique charm and diverse neighborhoods that make this city so special. Whether you're looking for a trendy loft in Midtown, a family-friendly home in Buckhead, or a suburban retreat in Sandy [...]
Hello! I'm Bryant Edler, your dedicated Atlanta Realtor. With a deep-rooted passion for real estate and a genuine desire to help people, I am committed to providing top-notch service and delivering exceptional results for my clients. As an Atlanta native, I have a profound understanding of the unique charm and diverse neighborhoods that make this city so special. Whether you're looking for a trendy loft in Midtown, a family-friendly home in Buckhead, or a suburban retreat in Sandy Springs, I have the knowledge and expertise to guide you every step of the way. I believe that buying or selling a home is not just a transaction; it's a significant milestone in your life. That's why I prioritize building strong relationships with my clients, taking the time to understand their needs, preferences, and long-term goals. By providing personalized attention and tailored solutions, I strive to make the real estate process smooth and stress-free. With a keen eye for detail and a thorough understanding of market trends, I can help you navigate the ever-changing real estate landscape in Atlanta. Whether it's finding the perfect property that matches your criteria or ensuring you receive the best offer for your home, I am committed to achieving your objectives and exceeding your expectations. I pride myself on being a skilled negotiator, always advocating for my clients' best interests. I am well-versed in the art of securing competitive deals and ensuring favorable terms. Rest assured, I will be by your side throughout the negotiation process, working tirelessly to get you the results you deserve. Beyond my expertise in residential real estate, I offer valuable insights into investment opportunities, property valuation, and market analysis. I understand that real estate is not just about finding a place to live; it's an avenue for building wealth and securing your financial future. Let me be your trusted advisor in identifying profitable ventures and maximizing your returns. When I'm not assisting clients, you can find me exploring the vibrant neighborhoods of Atlanta, discovering hidden gems, and staying up-to-date with the latest developments in the market. I am dedicated to continuously expanding my knowledge and staying ahead of industry trends to provide the best possible service to my clients. Whether you're a first-time homebuyer, a seasoned investor, or looking to sell your property, I am here to guide you through the real estate process with professionalism, integrity, and unwavering commitment. Together, we will make your real estate dreams a reality. By pairing my real estate knowledge with the support of the largest real estate company in Georgia, Better Homes and Gardens Real Estate Metro Brokers, I offer my clients everything they need – real estate, mortgage, insurance and closing services. Contact me today, and let's embark on this exciting journey together!
Office Location
12601 Town Center Drive, Suite 102
Covington, GA 30014
Contact Info
Specifications
Languages:
Specialties:
Service Area:
Contact
Hi there! How can we help you?
Contact us using the form below or give us a call.
Hi there! How can we help you?
Contact us using the form below or give us a call.