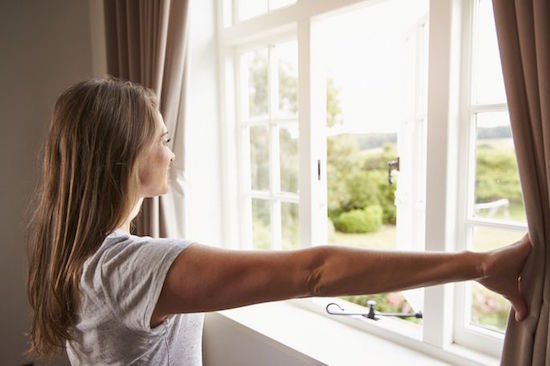 Believe it or not, it is officially spring. Whether or not the temperature reflects the season, the buyers are out there and on the hunt for a new home that is fresh as a daisy. It is up to you to make sure that your home looks the part even if the weather isn't doesn't. When a potential buyer walks into your home, it should be an oasis from the fickle temperatures outside. Take some time to polish that gem to perfection:
Let There Be Light: Start with a thorough cleaning of your windows, inside and out. If you are using a household cleaner, make sure to get something with a light, neutral smell so it doesn't overwhelm potential buyers. You can also make your own all-purpose cleaner with one part white vinegar to eight parts water. Add in a couple of drops of dish soap and wipe down windows will newspaper for a streak free finish.
Once the windows are sparkling, make sure to keep your blinds dusted and open during showing. Replace any dark or heavy drapery with light colored or sheer curtains. Keep them pulled back to show off how bright and airy the room is.
Sparkle your Stainless Steel: You can find stainless steel cleaner at most big box retailers. Make sure to wipe down all of your stainless surfaces, erasing all errant fingerprints and smudges. It will make your appliances look new even if they aren't. Don't forget to take care of the top, sides, and insides of your appliances. Even if you have non-stainless appliances, a deep cleaning of the refrigerator vent by the floor, the inside of the microwave, the oven racks, and the drain of the dishwasher go a long way. No one wants to walk into your house and see unidentifiable food particles left by strangers.
Don't Forget Your Vents: Dust can be a never ending battle in a lot of homes, especially if you have pets. But if you clean the air vents, replace the air filters, and vacuum all the grates, coils, and condensers, you will find that it makes a big difference. Not only will it make your dusting job easier next time, but you will notice a marked difference in the smell of your house, too.
Freshen up without Going Overboard: Smells are things that people can be very sensitive to. We have all walked into a house that smells musty and vice versa, one that smells overly odorous with scented candles. Neither is ideal. The goal is the smell fresh and clean. Identify any areas that could be holding onto bad odors and eliminate them. Clean the drip tray under your fridge. Run ice and lemon rinds through your garbage disposal. Put baking soda in your refrigerator.
If you want to freshen up an entire room, make sure that it is clean. Don't use air fresheners or candles to overwhelm people with scent. Just make sure that the floors are vacuumed, the walls and windows are wiped down, the surfaces are dusted, and if you be surprised how much better a house will smell. If you really want to punch up the aroma, it never hurts to leave out some fresh baked cookies.
Declutter: All that work that you are doing to clean these surfaces in your home needs to be put on display. Why would you immediately cover those surfaces with clutter to hide the counters, or the floors, or the walls, or the windows? Make sure that EVERYTHING is kept sparse.
Potential buyers don't care about your vase that you got on vacation in Greece in 2008. They want to be able to picture their candelabra that they got in Italy while on their honeymoon. Pack up your personal items and move it to your new place. It will look better there anyway!
If you are ready to list your home, contact the professional agents at Better Homes and Gardens Real Estate Metro Brokers for more tips and guidance. With their experience, they can guide you through the process to make selling your home a breeze. Call today at 404.843.2500.